Parish of Saint Phillip Neri Pilgrimage to Lourdes
Monday 25th - Friday 29th October 2021.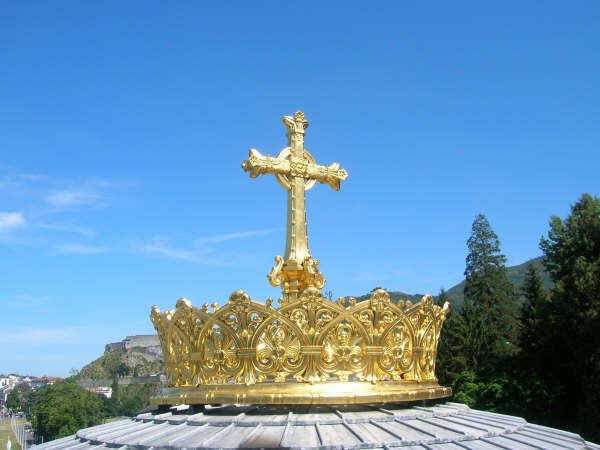 Pilgrimage Cost £675.00 per person (including estimated cost of Easyjet Flights)
(Optional Extras – Single Room £140.00, Travel Insurance £36.00)
For more information, or a booking form, please contact:
Graham Lysaght – grahamlysaght@hotmail.com
Jane Edwards – 0151 652 5767 admin@saint-philip-neri.co.uk
OR Gill at Tangney Tours (pilgrim@tangney-tours.com)
www.tangney-tours.com – 01732 886666
The buttons below is a links are to the tour operators website / information.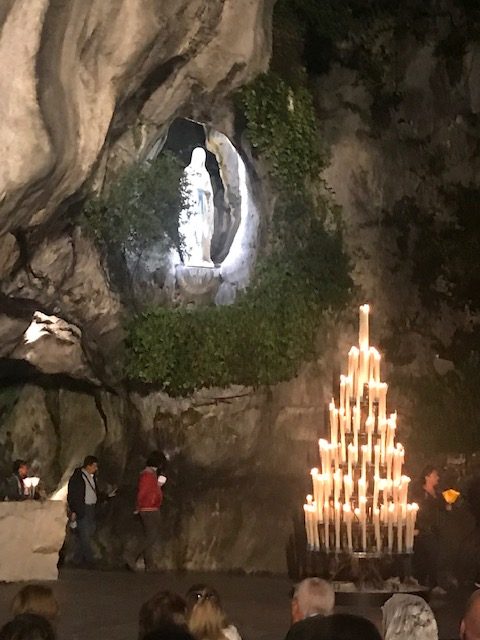 Letter from Graham the tour organiser
With what has been such a difficult year for everyone, I'm now delighted to able to announce the details for our 2021 Parish Pilgrimage to Lourdes in October, the first one in many years.All the details for our travel arrangements, hotel, insurance and cost are now in place and can be found on the booking forms and flyers that you will be able to collect after Mass from this weekend, all these details will also be on our parish website very soon as well.
Because of the most unusual circumstances that we have all found ourselves in this past year, it's understandable that there will be more questions than normal regarding the pilgrimage, initially based around insurance and our travel plans. Consequently, over the weekend of March 20th & 21st at the end of each Mass at St Michael's and St Joseph's, I will be giving a 5-minute briefing on our plans and will be able to answer any questions that people may have as people are leaving church outside, then once restrictions are lifted, we can all meet as a group to discuss plans further. At this stage there is of course some uncertainty around travelling plans, these we believe will be answered over the coming months, in the meantime it's so important for us to have a positive focus and make as many plans ahead of time as we can.
Our pilgrimage company is Tangney Tours, www.tangney-tours.com a company I have known for many years. They are a specialised family-owned business who have been operating pilgrimages for the past 47 years across Europe, they are both ABTA and AITO covered, this gives us complete peace of mind from a financial point of view. If our pilgrimage has to be postponed for any circumstances, their insurance policy, now also covers any Covid related cancellations.
Flying from Manchester, we have a full spiritual pilgrimage programme planned, with daily Mass in various chapels across Lourdes and we'll be staying full board in the beautiful 4-star Hotel Mediterranee, which is about a 5-minute walk to the grotto. For anyone who will need any assistance for any reason during the pilgrimage you must have your own helper or carer with you, wheelchairs will be available in Lourdes but you must have someone who is able to assist throughout.
If you have previously expressed an interest in joining us on the pilgrimage, then please do complete the booking form that you can collect from the back of church or contact Jane our parish secretary who can also email you one over if you prefer. We have looked carefully at costs and believe we have negotiated a really competitive, full board price. Travel insurance is of course extra as some people do have their own annual travel insurance, if not Tangney Tours can offer you that as well.
I was blessed to be based and work in Lourdes for 5 years and still visit several times a year, I'm really excited to be organising this year's pilgrimage, with the experiences and knowledge I have, I'm hoping to be able to make this a very special pilgrimage for us all and for us a parish to be able to make some lovely memories together. We have people who have been on pilgrimage to Lourdes several times and others who will be making their first visit, I'm sure we can all remember of first ever visit to Lourdes and how much of a very special moment it was for us.
The next step for everyone who would like to join us is to complete a booking form and to pay the deposit, this will secure your place with us (the deposit is of course fully returnable if for some reason we have to postpone), all the details you require are on the booking form. You can either drop it off at the Parish Office at St Joseph's or leave it in the pilgrimage box at the back of church in an envelope marked 'Lourdes Pilgrimage'
If you have any questions at this stage, ahead of the weekend of March 20th when I'll be at our churches, then you can either call or email Jane at the parish office who will pass me your details and I can come back to you directly. I look forward to seeing you all.
Graham Lysaght.
Pilgrimage Organiser.